05/12/2017 Portada Inglés , Family 0 comments
The Sand Nativity Scene at Las Canteras beach is the flagship of dozens of Birth Scenes spread all around Gran Canaria.
Leonardo, Benoît, Marieke, Aleksei, Enguerrand, Dan, Vadim, Alexey and Jonay come from different countries around Europe. Yet, for several weeks they speak a single language: the language of sand. They are sculptors who between them have used some 2,000 tons of arid sand from Las Canteras beach, in Las Palmas de Gran Canaria, to build the greatest Nativity Scene of its kind in Continental Europe. Its sheer size however is by no means its only attraction, as they have also managed to express real emotion through this temporary structure, which leaves a permanent mark in the memories of those fortunate enough to get a close up of it.




The Sand Nativity Scene at Las Canteras beach is one of the flagships for a whole host of birth scenes that have disembarked onto Gran Canaria around this festive period. Indeed, the island offers dozens of scenes of all imaginable styles, both at the capital and at other municipalities. Interested parties need only check out the guide and work out their personal route of the Nativity Scenes, in a wholly different kind of winter scene so characteristic of this island.
The Nativity Scene treasures centuries of tradition in Gran Canaria, an island that boasts some fine scene-building artists. One such example would be couple Pedro Armas and Julia González, who have created an exhibition called 'In illo tempore II' at the Antonio Padrón House Museum. This is an Indigenist Art Centre in Gáldar, that houses unique and exclusive pieces that are true works of art. In this case, the Boy Jesus comes into the world surrounded by ancient volcanoes and banana plantations, and characters draped in traditional clothing from the northwest of Gran Canaria.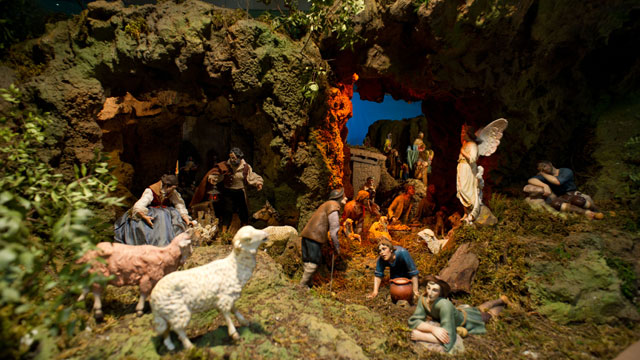 Have you every seen a Nativity Scene with giraffes in it? Well, you might get your first chance to if you come along to the exhibition of African birth scenes at the Columbus House Museum, where there are scenes on display from ten or so different countries, ranging from Tanzania, Egypt and the Ivory Coast, among others. The most orthodox of nativity building shines through in the art displayed in the Grand Canarian Bethlehem Scene at the Church of Santo Domingo and at the Victoriano Birth Scene at the Palacete Rodríguez Quegles, in Las Palmas de Gran Canaria, and those at the Parish Church of Juan Bautista in Arucas and in the Episcopal Palace in Teror, to name just a few.




At times like this you can get carried along with the atmosphere of solidarity so typical of Gran Canaria at Christmas time, and maybe give donations to a range of different charitable causes. Christmas on the island is warm in terms of the thermometre, but in other aspects too. Yes, it's Christmas, and we are in Gran Canaria. So all sunny roads lead to a Nativity Scene. Which one will be yours?