Sub-aqua diving in Natural Marine Reserves
The volcanic origin of Gran Canaria is not only best appreciated for its terrestrial landscapes, but also for its extraordinary sea-beds, which hide authentic natural treasures. The coast of the island exhibits a rich marine life for all those that dare try a diving day out. Diverse natural reserves dotted around the coast of Gran Canaria provide the diving enthusiast, or all those that would like to try diving, a perfect stage for a day below the water's surface.

If you take the plunge to dive along the coast of Gran Canaria, don't forget to explore Las Canteras Beach in the north of the island, a beach which forms a gigantic aquarium due to the natural barrier reef of compacted sandstone which protects divers from the waves.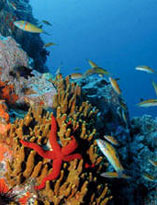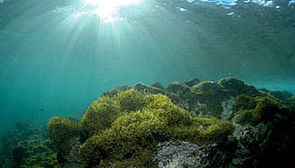 In the south of the island, in Arinaga, there is another marine reserve which is attractive to sea lovers, since a few metres below the surface it is possible to swim among cusk-eels and groupers. The area of Pasito Blanco and the area of Mogán also possess a spectacular sea-bed ideal for taking underwater photographs. And in the north of Gran Canaria, in Gáldar, in the costal zones of Sardina del Norte and Caleta Baja, the more experienced divers can discover a labyrinth of openings and underwater caves inhabited by a large population of sea urchins.
Want to investigate the deep blue seas in our Nature Reserves? You can get all the information you require at the tourism information offices.