12/02/2019 Portada Inglés , Nature 0 comments
The winter blossoming of the Canary white retama broom plant reveals one of the great 'tricks' of nature in Gran Canaria.
Someone seems to have unfurled a wintery white sheet over the ravines and hillsides in Gran Canaria. This mysterious-looking frost is, however, the result of the seasonal spectacle provided by the flowers on Canary white broom, on bushes that grow up to three metres in height. Their aromatic flowers take centre stage at this wintery scene, popping up at many different natural island settings, and are free to go and see.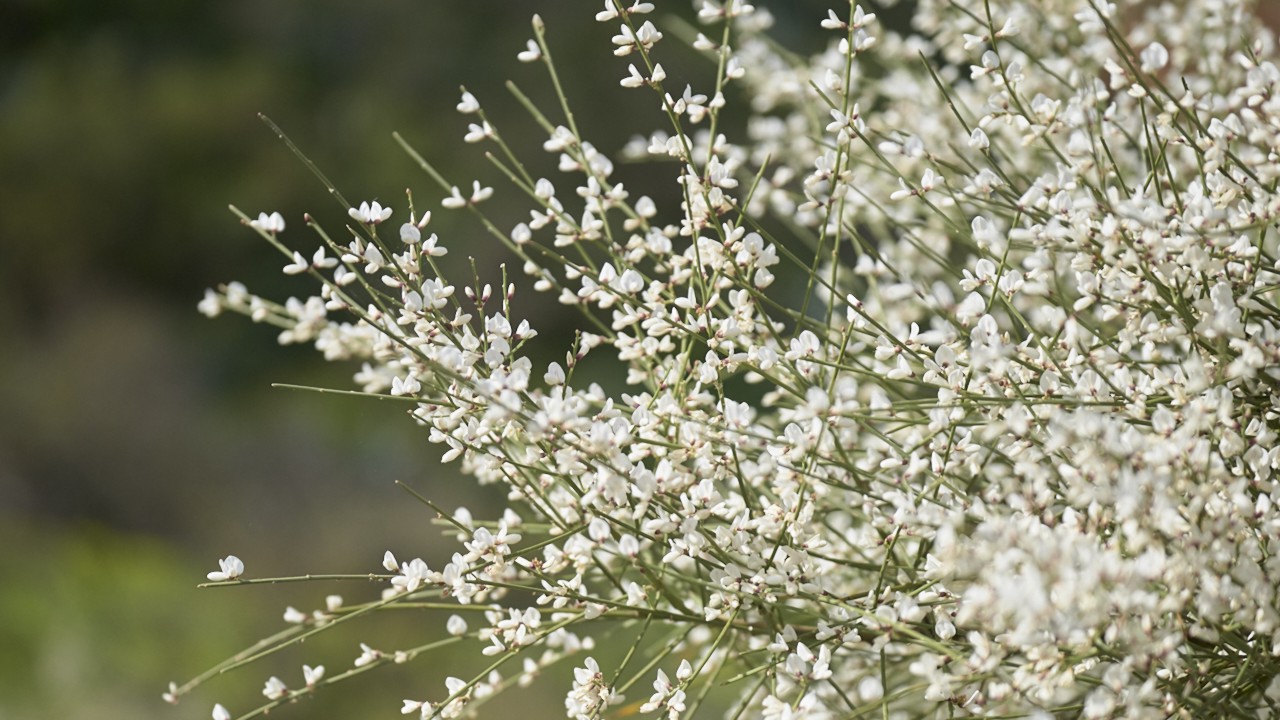 Canary white broom stands out for the pure, snowy white texture of its flowers, which competes with the other white blossom that sprouts from almond trees on the hilly summits of Gran Canaria. It also stands out for its heady aroma, similar to jasmine. A winter stroll around countryside containing broom is like opening a bottle of soft-scented perfume.
This white dame of Gran Canaria is very proud, and displays her beauty over its wide, twiggy crown on bendy branches, with different tones ranging from green to grey, and with small, short leaves, present only during winter time which the white broom transforms the region into spring as if by magic. White magic, that is.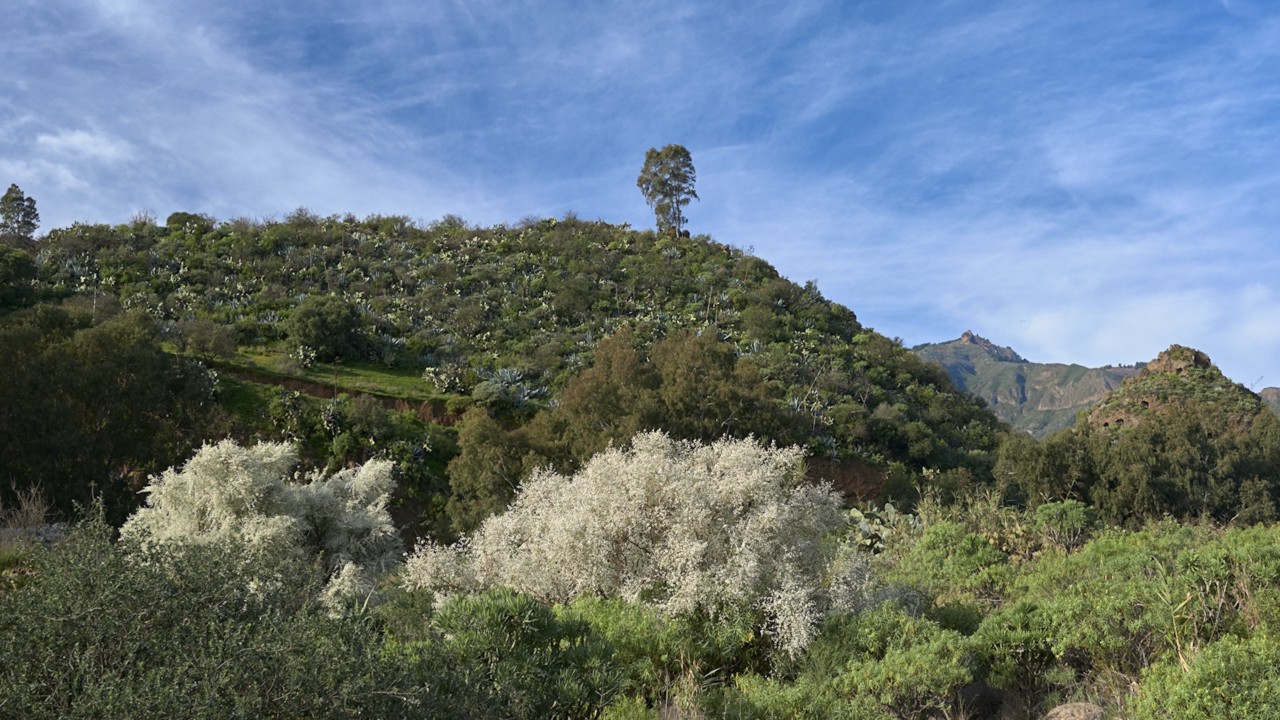 Sprouting broom accompanies walkers as they make their way around the ravines of San Miguel, Mocán, Los Cernícalos and Caldera de Bandama, as well as many other areas. This high class scrubland that inhabits Gran Canaria between altitudes of a hundred and five hundred metres, or even higher, particularly like to root on hillsides covered in volcanic gravel and other volcanic materials, heightening the contrast between its bright flowers and the dark surroundings, which look like they are the result of an impossible, cold snowstorm.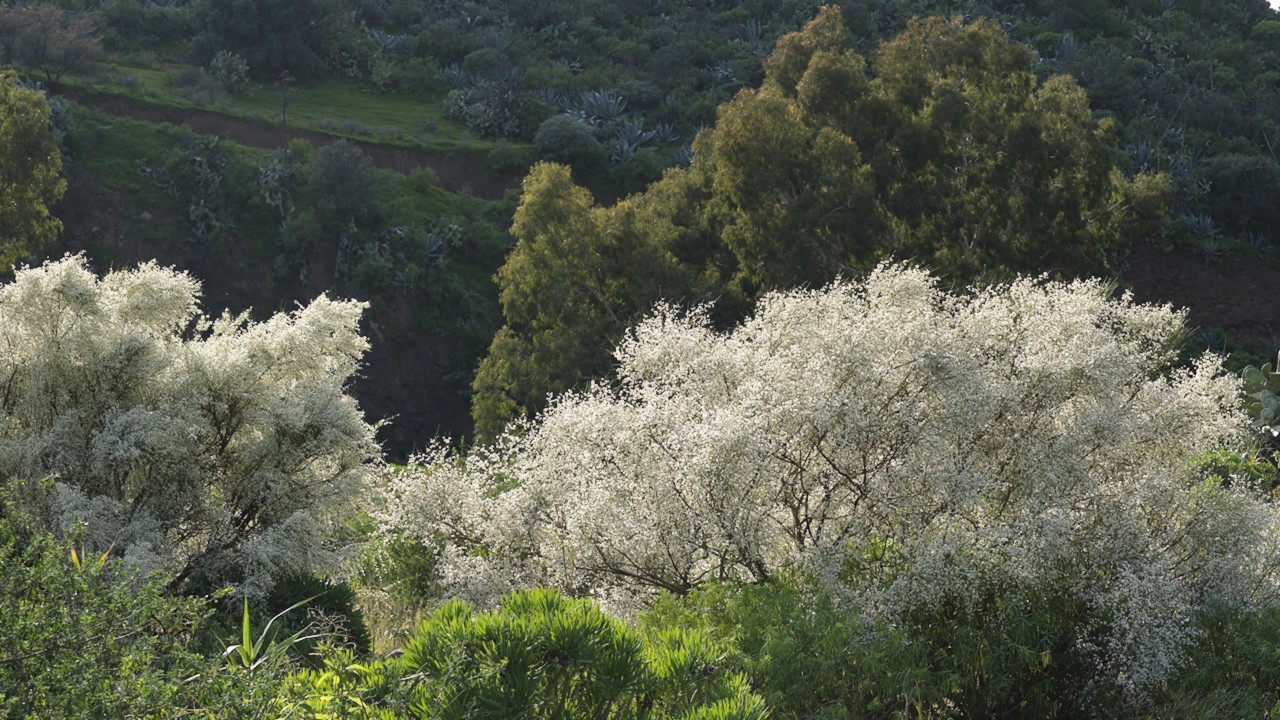 Also, this endemic species features a certain set of characteristics that lend it a doubly special quality. Its roots have the ability to both shore up and oxygenize the soil. Canary white broom is related to other Mediterranean varieties, and is a friendly being that usually grows alongside other plants such as tabaiba plants, tunera cactus and dock leaves. The flowers on the honey-sweet white broom are an anavoidable magnet for bees, and go into the production of honey, one of the stand-out products from the countryside around Gran Canaria.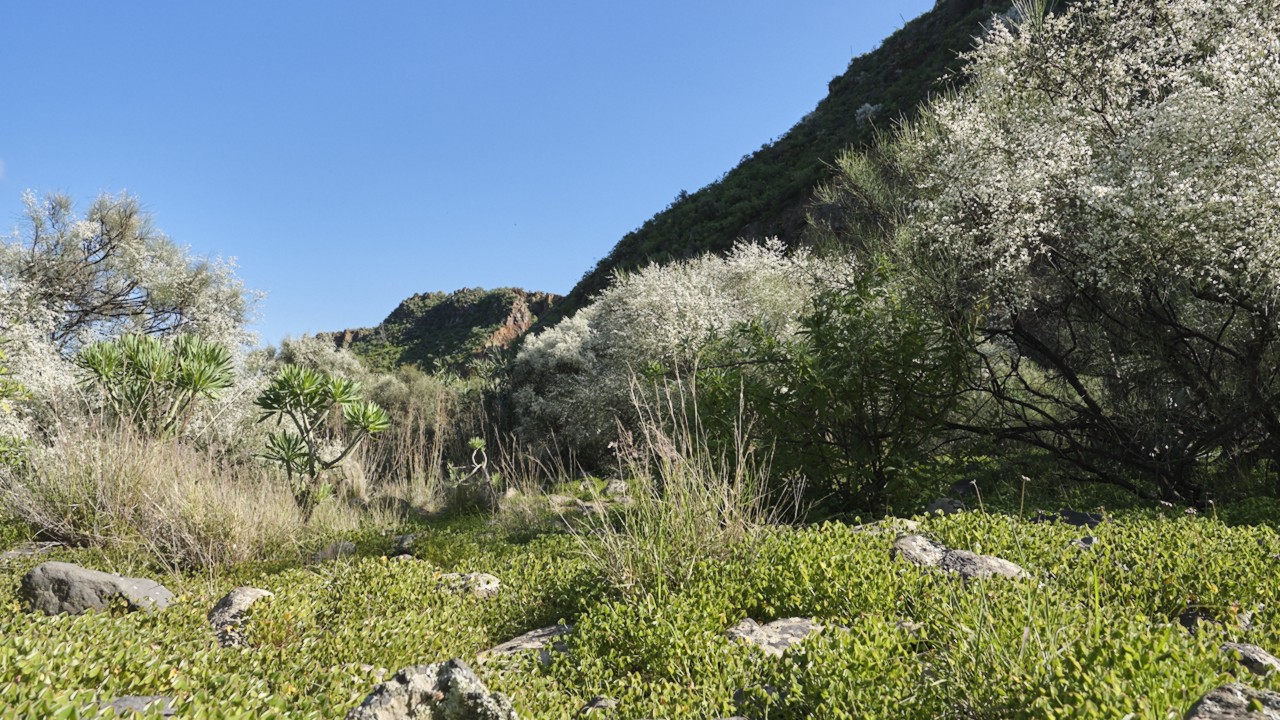 Wherever white broom grows, it is accompanied by the island's white flag of biodiversity. There is evidence, for example, that rabbits around the Guiniguada Ravine eat its seeds and thus help to spread its growing area all along its ravine bed. Naturally, a magic show like this one would have to feature a rabbit somewhere along the line.