24/08/2018 Portada Inglés , Culture 0 comments
Every knife that Francisco Torres makes is a wholly unique piece, and proof of Gran Canaria's deep-rooted craftwork tradition.
Every Canary knife tells a story. Some of them can cut short our breath with their steel blades. Rafael Torres Osorio, a resident of Santa María de Guía, in Gran Canaria, forged well deserving fame as an artisan knife-maker, while his son, Francisco Torres Rodríguez, delicately holds up a knife that is able to slit through the patterns of time. "This is the last one my father designed in 1992", he reveals with emotion and pride etched on his face. The handle, a replica made by himself, is pure silver and goldsmithing genius, a combination of animal horn, precious metals, know-how and patience.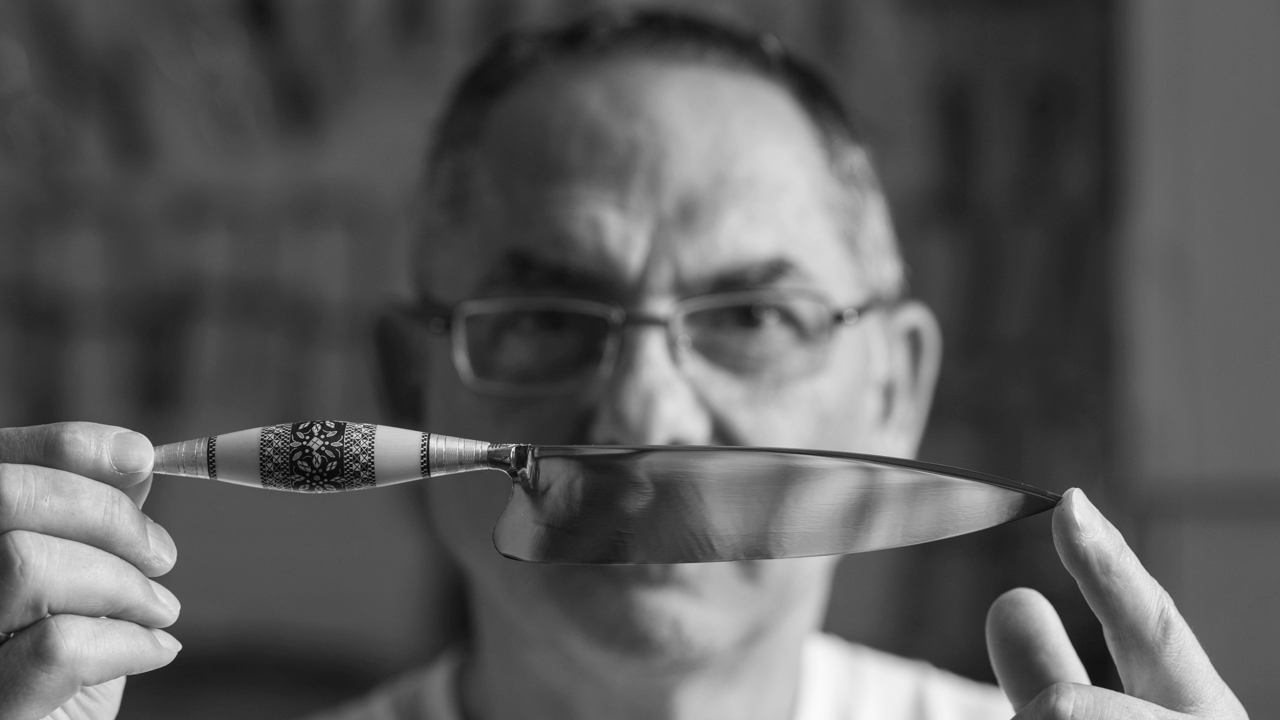 Francisco grew up watching how his father made Canary knives, at the same workshop he now makes them in. "My father kept everything in his head. From time to time I sketch some out on paper, but when you actually start putting them together you often make changes as you go along", he explains. That's just how he has made around five thousand knives in a career spanning 41 years, with as many different models as his wild imagination can create, as well as an ability to mix his own designs with those he has inherited from his father, in this the most "cutting" edge island tradition.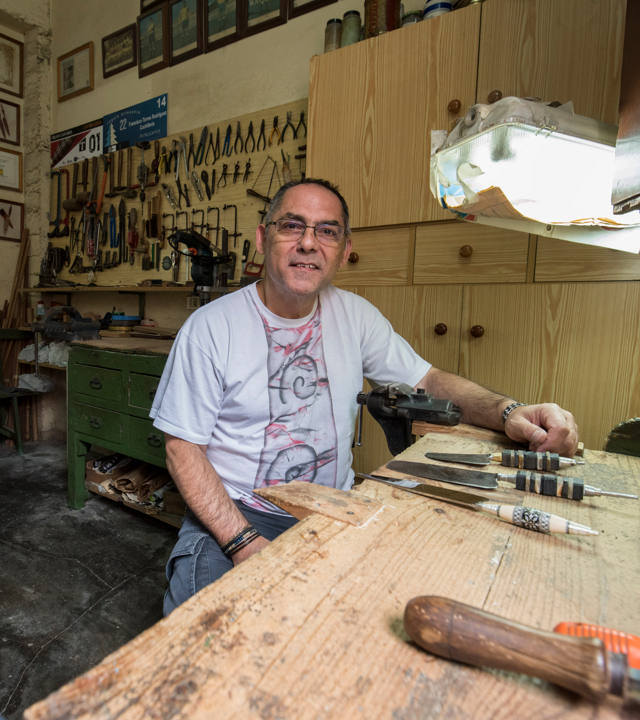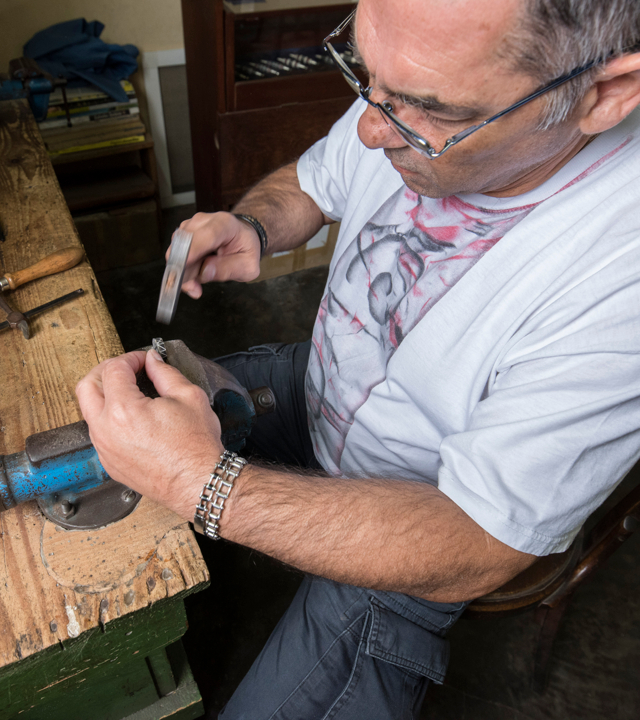 Every single knife made by Francisco Torres Rodríguez is wholly unique, and whoever buys one can truly boast having a unique piece, certified with the FEDAC seal from the Cabildo de Gran Canaria, and from an island with a strong identity. Indeed, Francisco is the proud owner of licence number 23 on the island's official craftworkers' list.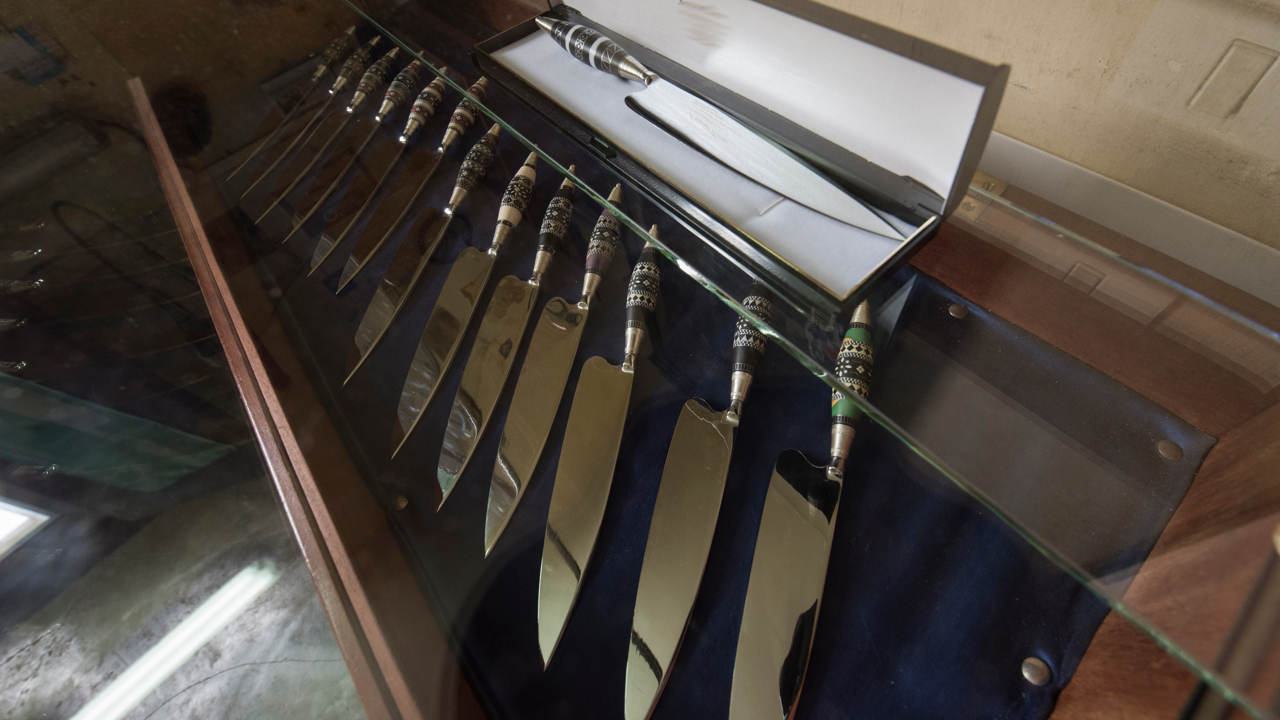 However, a real insight is to be had at the base of the handle, which the local knife-makers term 'escolchón', comprising the casing, the end and the rivet. Only there can we properly appreciate the personal touch to Francisco's knife-making skills, specifically a triple horizontal line, a section of six cross-lines, and finally an 'X'. These are three signatures that guarantee authenticity reflecting laborious, creative effort, which puts a rich ethnographic Gran Canarian seal on the handle.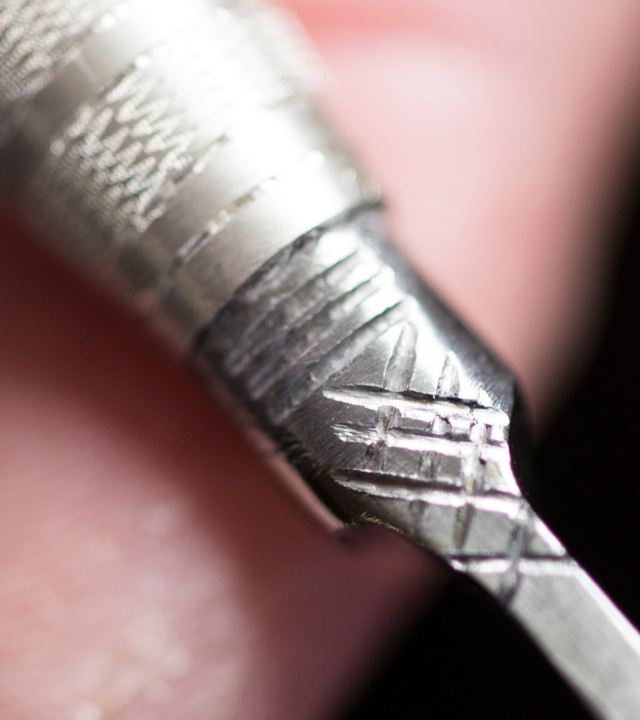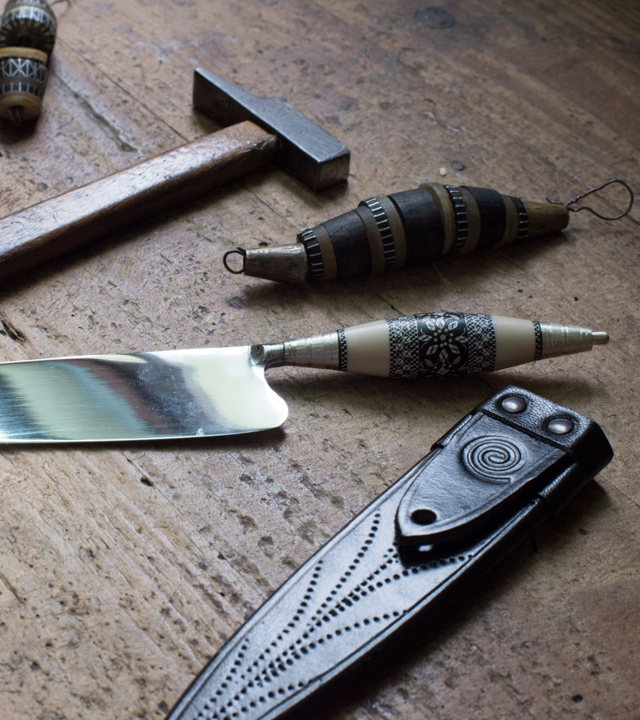 If we spot these symbols, there is no room for doubt: this knife took shape over a couple of weeks at the workshop of Francisco Torres, the same place his father worked in. This workshop features a metal rolling mill in the centre, an anvil, tables with their work surfaces worn away by all the hours of work put in to achieving the perfect Canarian knife, a window where a wide range of models are displayed, and a small window that lets in light –sometimes with a golden or silver tint- here at this northern location.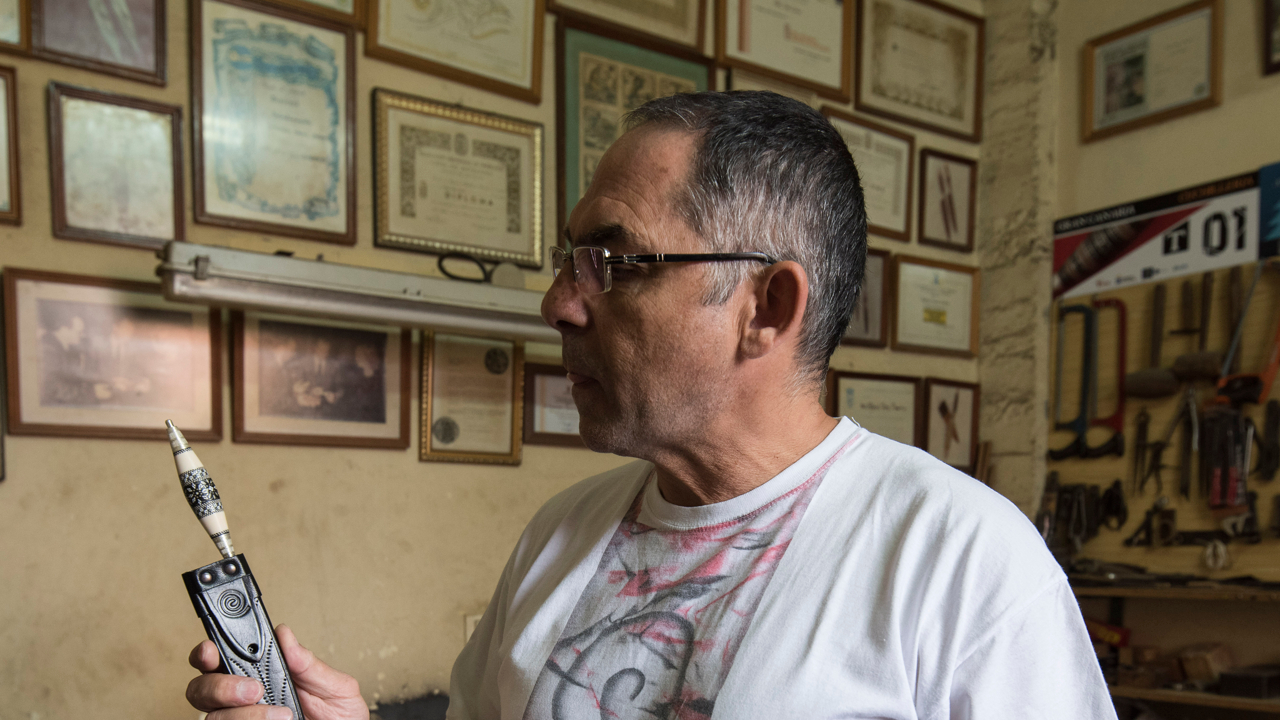 The walls also tell stories, mainly highlighting the joys of awards, recognitions, and happy, extraordinary days. In a corner, a photo captures the immortal moment the King and Queen of Spain received a knife with the seal of Rafael. The room is also adorned with pictures of legendary footballers who have played for Unión Deportiva las Palmas, and the Gold Medal award to him by the city of Santa María de Guía.

In order to produce a knife that conforms to high Canary standards, it requires a good two weeks' work, a watchful eye, a full use of the imagination, and using ideas and materials that come to mind. It is no easy job for craftworkers to get hold of basic materials such as ram's, goat's, cow's and bull's horns. Fortunately, as Francisco puts it, "our work is gradually being appreciated more", or at least that is what licence holder number 23 feels.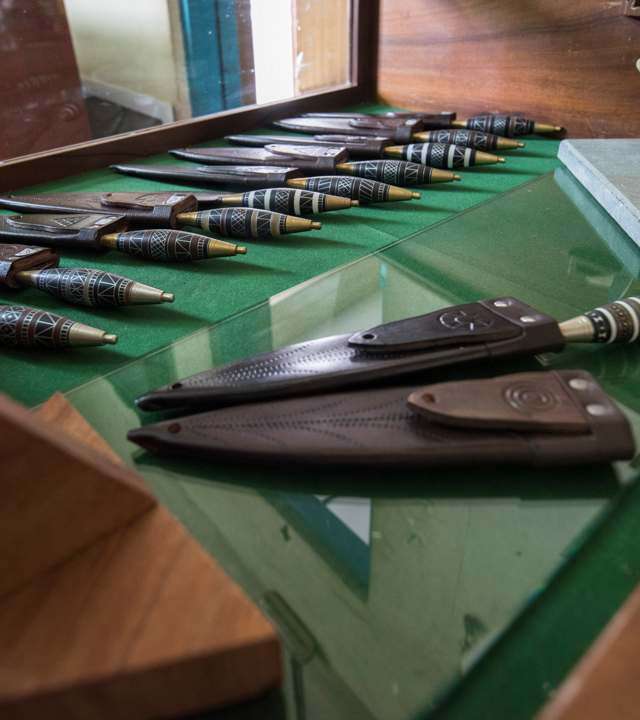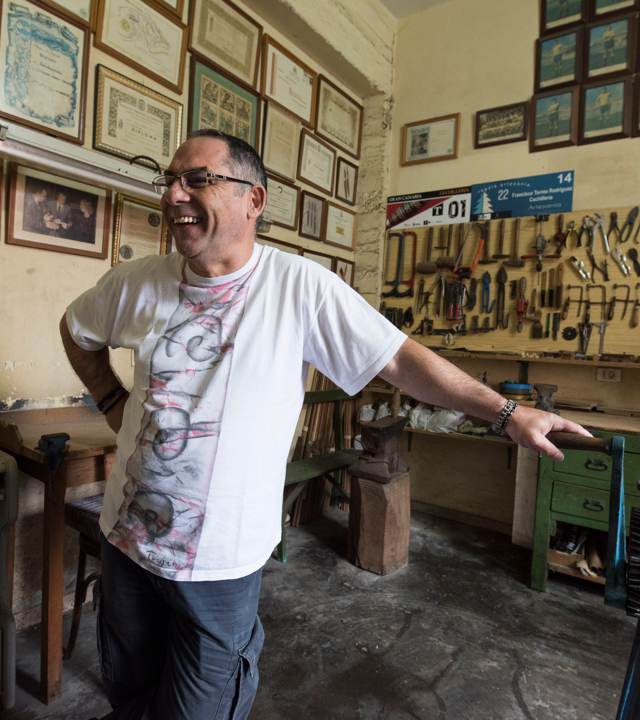 The Canary knives such as those made by Rafael, and now his son Francisco, have served as gifts for the monarchy, presidents, for home use, for slicing up the famous flower and half flower Guía cheeses, for helping workers at the banana plantations, simply as an adornment, for people to add to their personal collections, and for shepherds up on the hills and peaks of Gran Canaria to be able to cut up tough hemp leaves to feed their sheep. Indeed, one of the few things these knives cannot cut are the ties they have with the essence and history of Gran Canaria.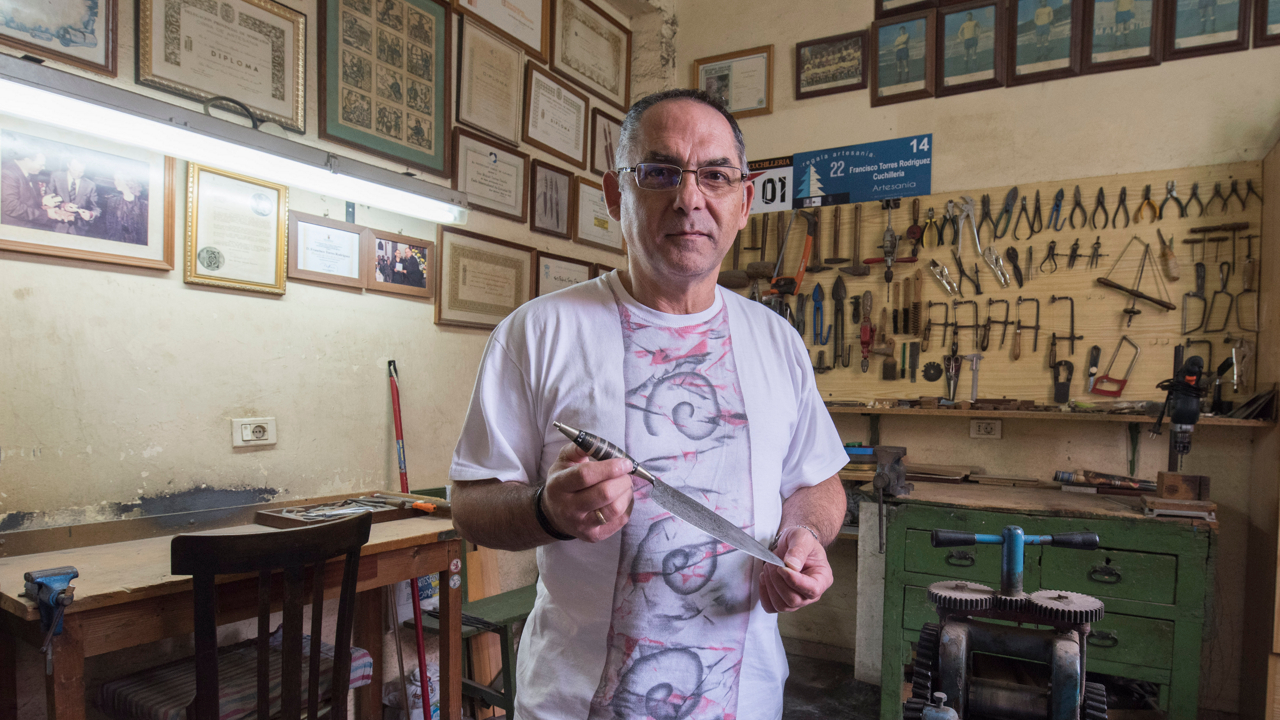 It's time to go now. We leave Francisco alone at his table with his tools, his ingenuity and his skills, together with a few small pieces of cylindrical horns. Another knife is on its way.