01/06/2018 Portada Inglés , Culture 0 comments
Everyone is aware of regions throughout Spain that pride themselves on their long tradition of producing cured meat and sausages. However, among these areas, the chorizo and black pudding made in Gran Canaria's town of Teror clearly stand out as world-class.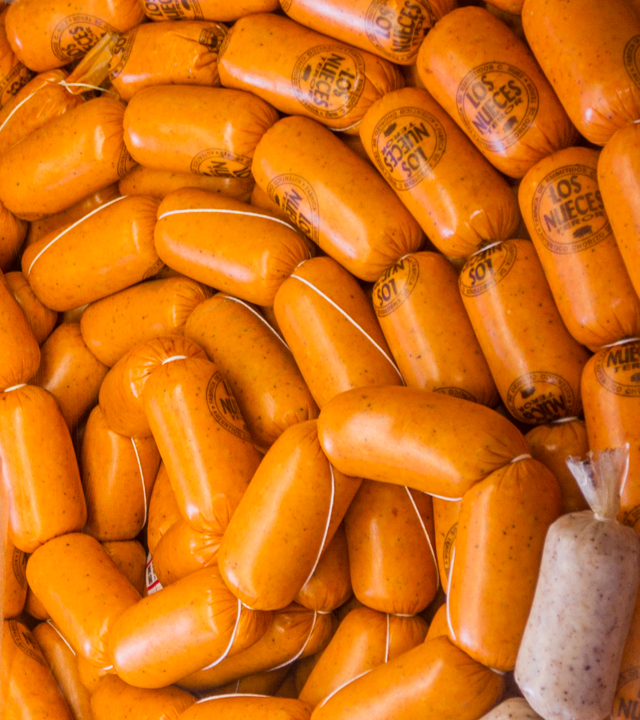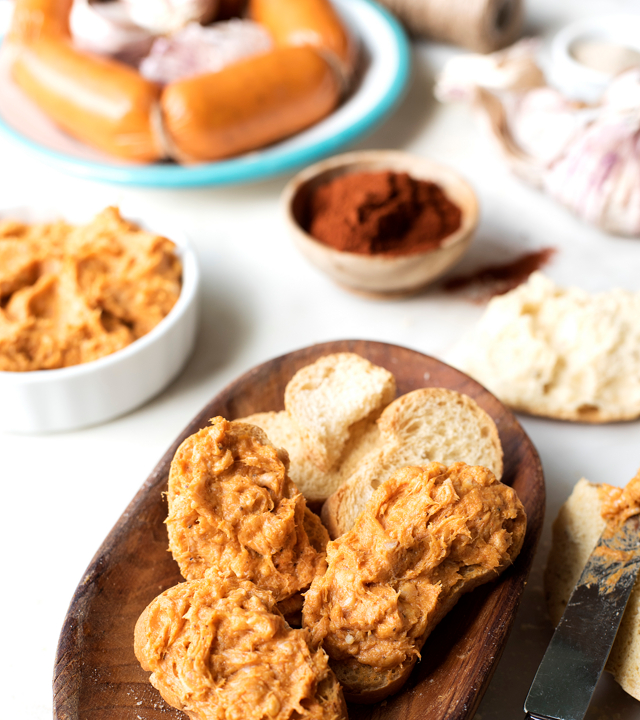 Chorizo production in Teror goes back to the late 1930s when cold storage was quite limited and people really made the most of every part of an animal when butchering it. "I think that this led to people mainly using salt and paprika for preservation, giving this chorizo as a result, but I don't remember exactly how the recipe came into my family," says Gonzalo Nuez Marrero, one of three brothers (alongside José and Alberto) who currently own the Fábrica Los Nueces, pioneers in marketing this product.
The family's patriarch, José Manuel Nuez (their grandfather), founded several butcher's shops back in the day in Villa Mariana where he began to sell the product we know and love today, although they use synthetic sausage skins these days instead of animal intestines. This way of making chorizo was passed down to his son (Carmelo Nuez, known in the village as Gonzalo) and later to his grandsons who have maintained the tradition that began in their grandmother's home. "As a child, I remember always being in the butcher's shops and seeing my grandfather and my father making chorizo. Later on, I helped out as well, so I've always been around these products," says Gonzalo.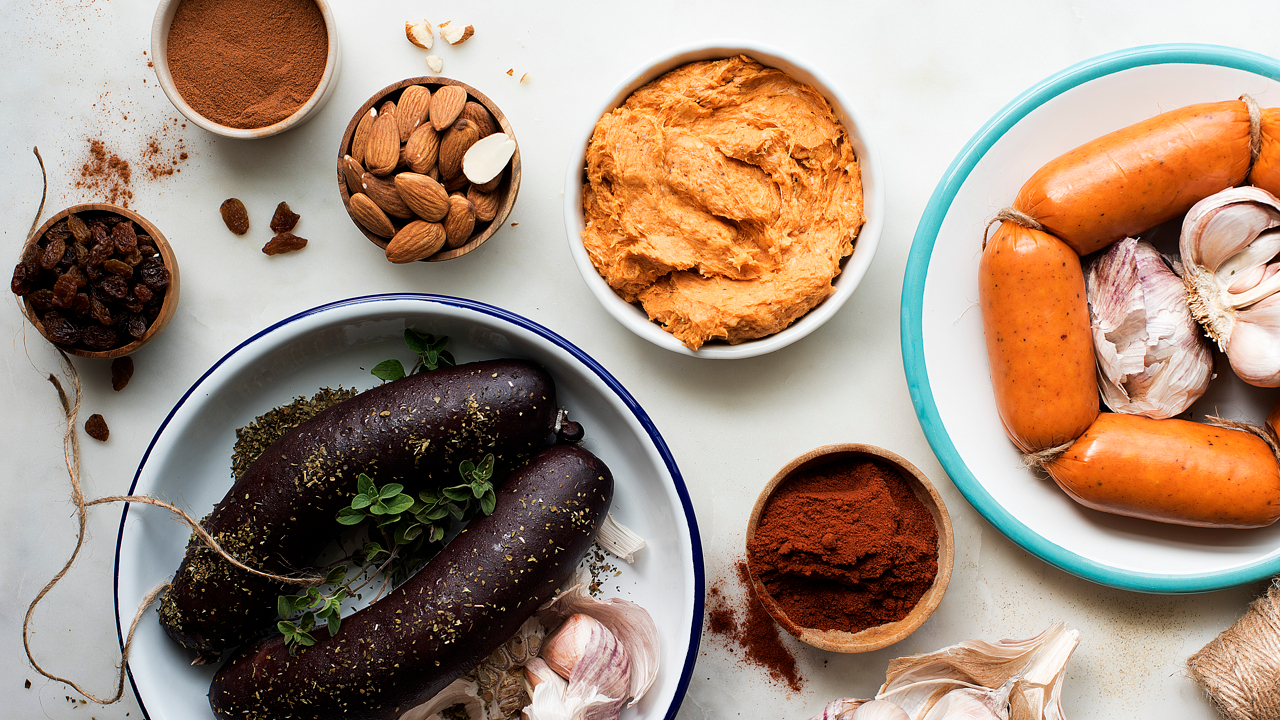 Another family that has traditionally made this product is that of Blas José Sánchez Domínguez (1956), who founded Chorizos Terorero in the late 1980s at Avda. del Cabildo Insular 43. Nowadays, along with his wife (Flora Soledad Mendoza Díaz), his children (Ylenia and Roberto Sánchez Mendoza) and several workers, they craft chorizo and black pudding in almost the same way as when they first started out. "We've just changed the machinery to fit in with the times because production has increased exponentially over the years," explains Roberto Sánchez, managing director of Chorizos Terorero.
Teror Chorizo is based on paprika, salt, white wine, spices, garlic, bacon and lean meat, for the red version. And the white version has practically the same ingredients, without the paprika but adding nutmeg. However, each of these producers has managed to give their own identity to their chorizos, without losing sight of their essence, making it possible to appreciate different nuances between them. "Teror chorizo has an all-round flavour and a unique texture. It's popular among tourists and its originality makes everyone's mouth water. As it's smooth, even children love it," comments Roberto Sánchez.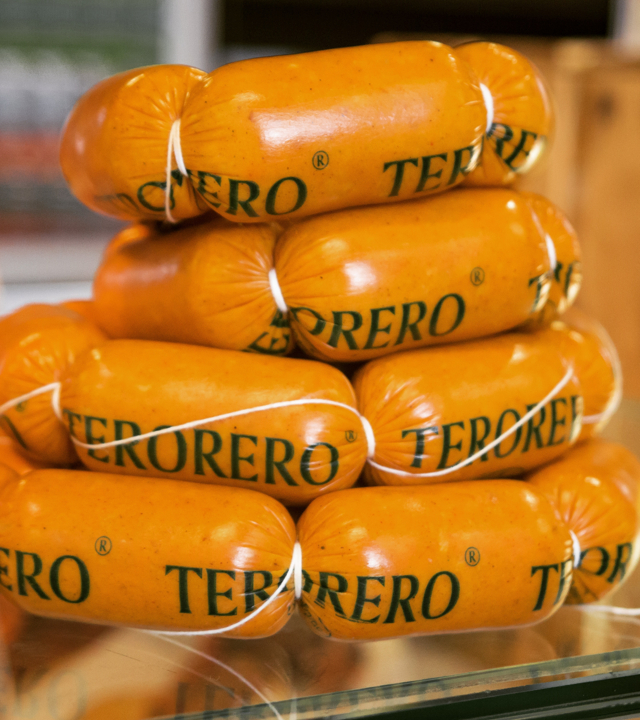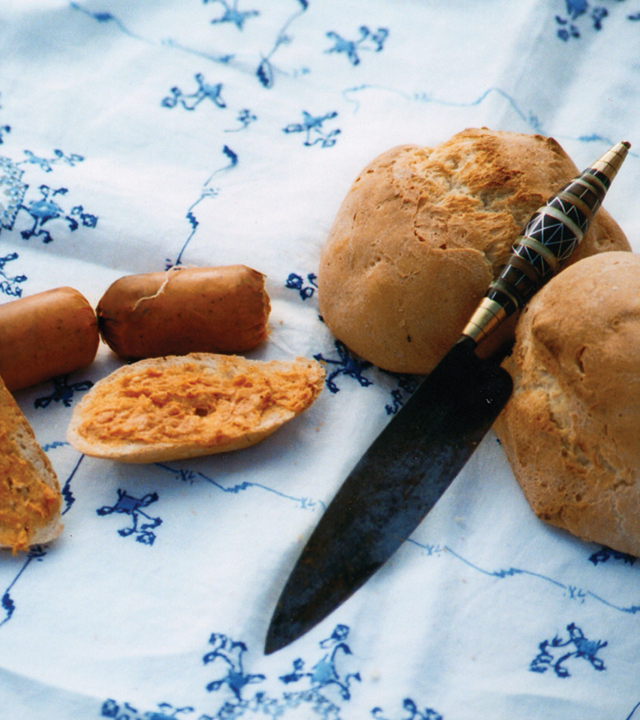 Gran Canaria is the main consumer of this chorizo but it is also sold regionally, nationally and internationally. Weekly production from each of these producers totals around 3000-3500 kg. Gonzalo is clearly proud of the affection they receive from the people of Gran Canaria regarding their product and tourists' reactions when they try it in restaurants and at the village's Sunday market.

Consequently, these cured sausages travel all over the world thanks to tourists and people from the Canaries who live elsewhere but like to take a little piece of home away with them. It has become an emblem of Gran Canaria that is not likely to go out of fashion, despite current trends for healthy living, because "it's the ideal addition to your table" explains the managing director of Chorizos Terorero. In addition, it is becoming clear that, little by little, some chefs on the island are including it as an ingredient in their dishes so that "if it was promoted a little more, it'd become more popular beyond the Canaries as well."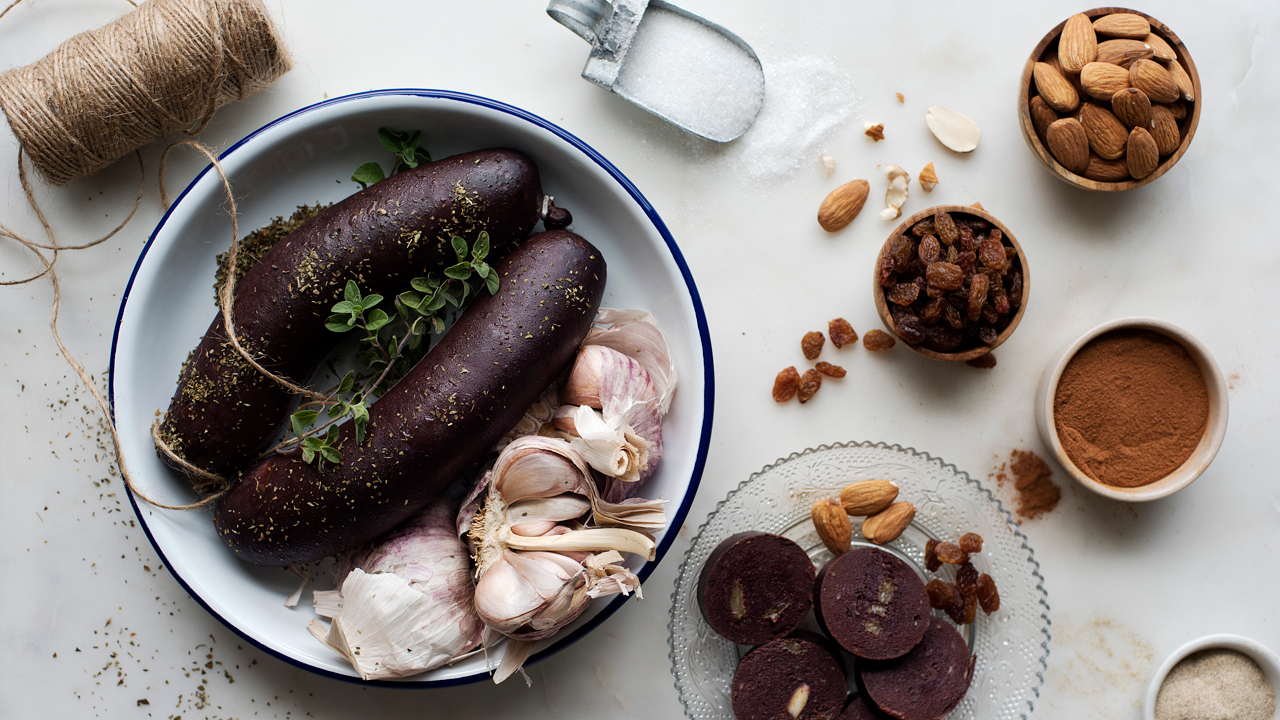 Black pudding, a sweet delicacy
Almost all farming families on the mid and high slopes in Gran Canaria tend to keep at least one pig to slaughter before winter arrives, giving them meat products for the summer period.

Black pudding is made during the slaughter, using the animal's blood and bacon, adding crumbly and ground bread, sweet potato, garlic, almonds, raisins, walnuts, cinnamon, sugar, onion, aniseed, salt and spices, giving a product that is characterised for being smooth and sweet. Gonzalo, from Fábrica Los Nueces, explains that they still make it that way, like in the old days, and "the secret of their success lies in hanging on to this identity".

The managing director of Chorizos Terorero adds that "it is precisely the sweetness, its most outstanding, curious trait, that gives Teror's black pudding its surprising flavour, especially for anyone expecting a black pudding from the mainland; and we have to say that it does a great job." So much so that each facility produces around 1,500 kg of black pudding every week.

Teror's chorizo and black pudding have a special flavour that tickles the taste buds of people from Gran Canaria, Islanders and tourists alike.