01/09/2020 Portada Inglés , #SoMuchToDiscover , Culture 0 comments
Dotted across the Island are a great many windmills that were used for a variety of different things from milling grain for flour or "gofio", pumping water for irrigation or even seawater to be used in the salt pans. Nowadays we've got wind turbines too, to help us power the Island. But the idea that somehow ecology is a modern concept is totally misguided. Centuries ago, our ancestors were already using water and wind to power those mills.
The Molino Quemado (burnt mill) of Mogán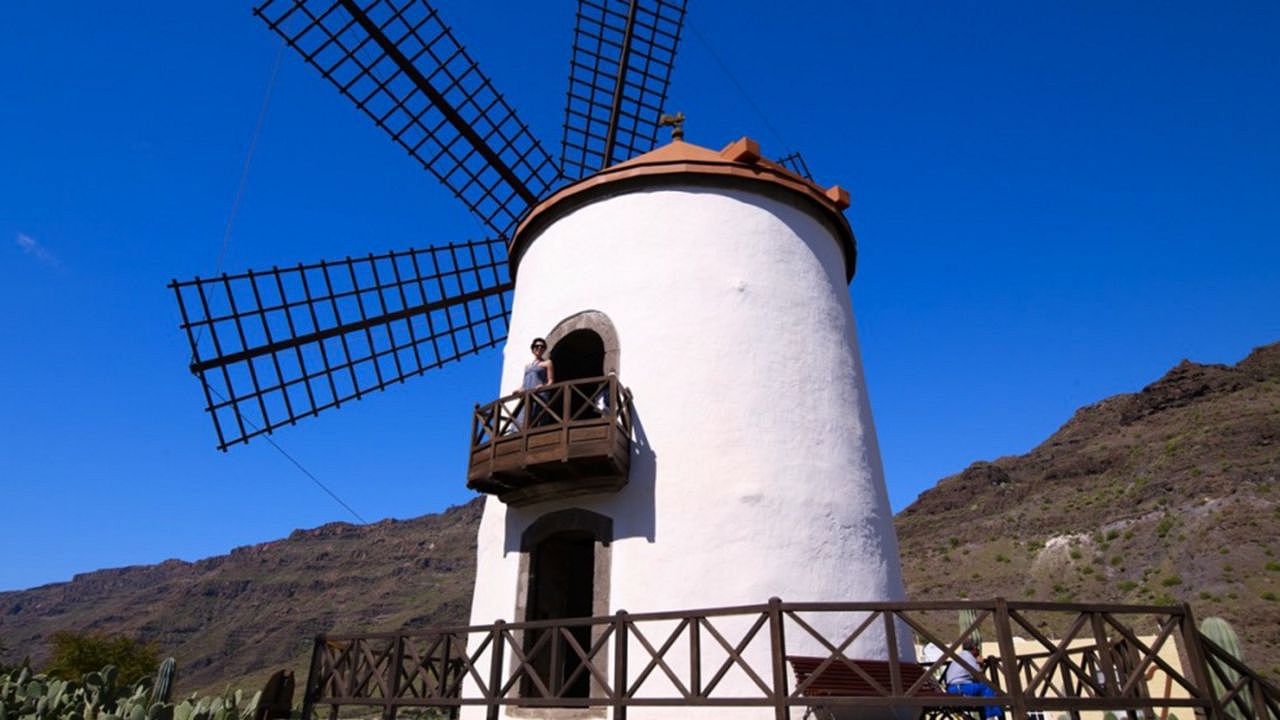 As we leave Maspalomas a head southwest, we get to the valley of Mogán and the Molino Quemado. As you might have guessed from its name, it was burnt down but has been restored to its former beauty, working parts and all, thanks to the Mogán City Council and the local neighborhood association. It is definitely worth taking a moment to look out from its balcony but be careful with the rafters as you climb narrow, steep stairs! Have a seat on the bench and take in the surroundings and its lovely garden.
In the beautiful cactus garden that surrounds the mill, you'll find all these oversized objects, like a table with four chairs, an iron, an oil lamp, several coffee makers, and a coffee grinder. But you'd be wrong if you thought Gulliver had popped by on one of his adventures. These objects are carried on carts in the yearly procession in honor of San Antonio (Saint Anthony).
Los Majanos windmill, La Aldea de San Nicolás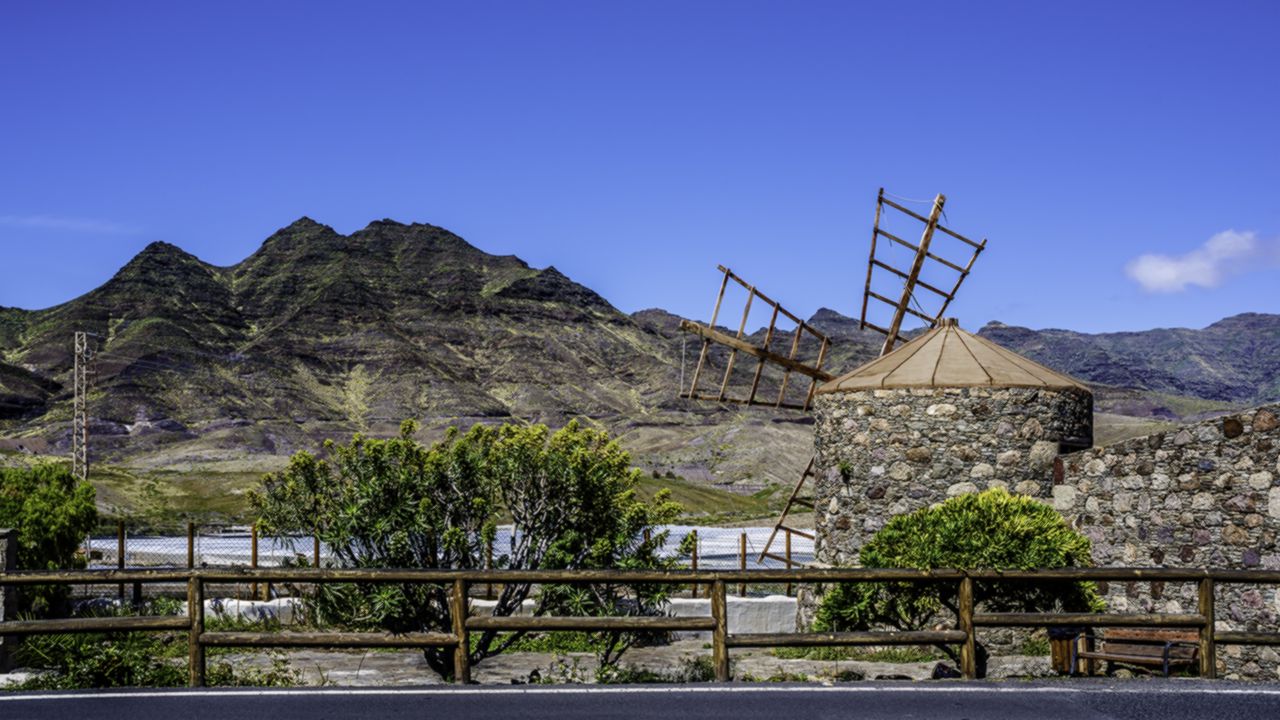 Our journey now takes us to La Aldea de San Nicolás and as you pass the different farms you'll notice the Samson and Aeromotor brand windmills once used to pump water from underground wells or tanks to irrigate the land. Those mills are just like the ones in wild west movies.
As we get to the neighborhood of El Cruce, the Los Majanos windmill's circular tower begins to stand out, with its fixed machinery and miller's house. This mill was built in 1905 when the area began to boom because of the tomato platations. A dozen flour mills were built during this time.
Las Nieves windmill, Agaete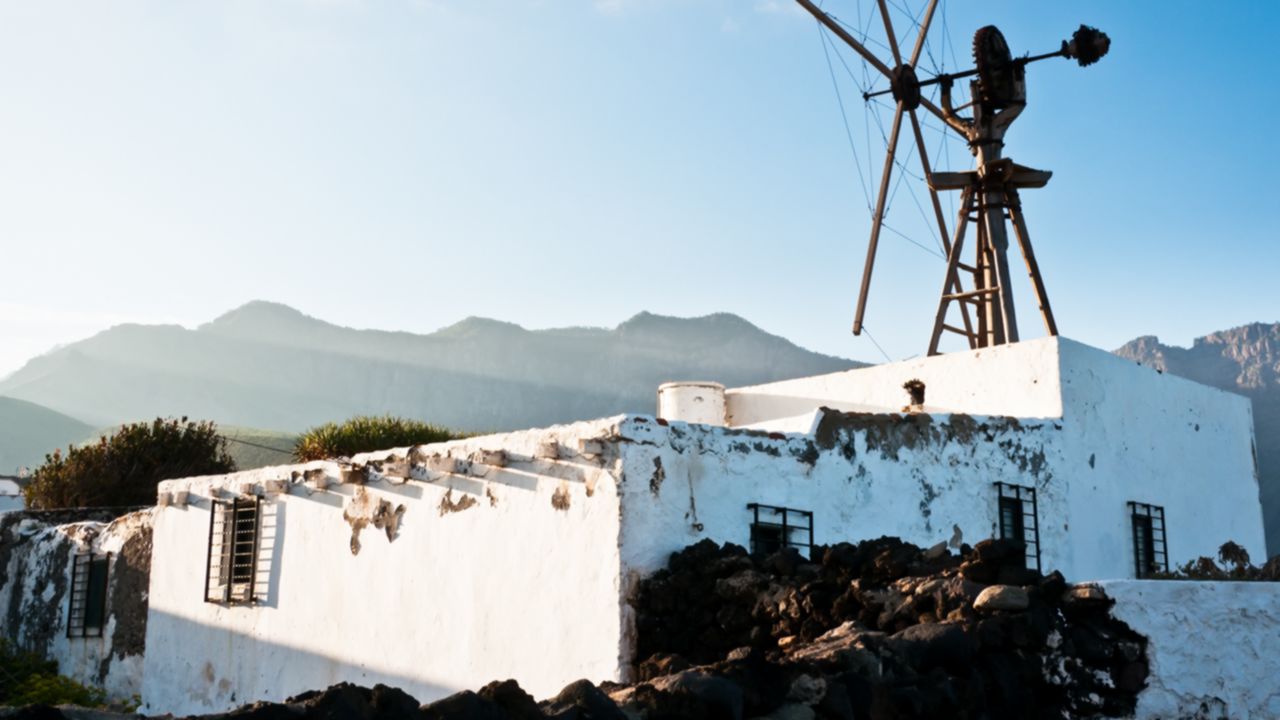 Get ready for the bends on the road from La Aldea de San Nicolás to Agaete and its breathtaking views of the cliffs that line the entire coast to Agaete. As you walk along the Paseo de Los Poetas, near the entrance to the Puerto de Las Nieves, you'll see this old windmill which dates back to the nineteenth century, but that stopped milling in 1950.