04/01/2017 Portada Inglés , Gran Canaria 0 comments
Stay with us for the next few paragraphs. We are going to take you line by line to the main shopping areas in Gran Canaria, to places where both your wishes and those of loved ones come true. The island, as is well known, is packed with so much. It constitutes an extraordinary shop window, with room for nearly every single wonderful thing you can imagine. Right then, shall we go shopping today?

If you look up in front of you, you will see buildings rising up on either side, home to all kinds of shops. Yes, there are lots of people about. That's quite normal, as this is one of the main arteries in Las Palmas de Gran Canaria: calle Triana. This road is at the heart of a string of streets packed with businesses and restaurants which happily compete alongside eachother, as if the spirit of Paris had been flown over the Atlantic and brought to rest on this part of town, located between San Telmo Park and the city's founder neighbourhood of Vegueta.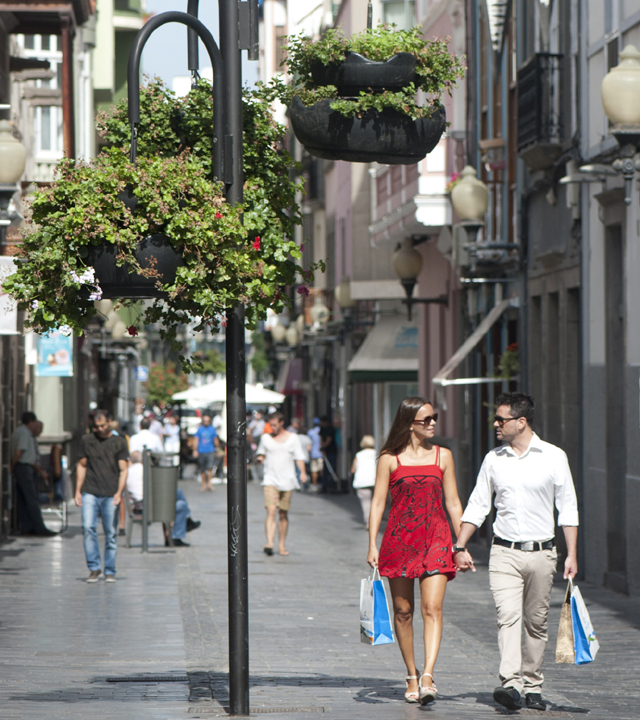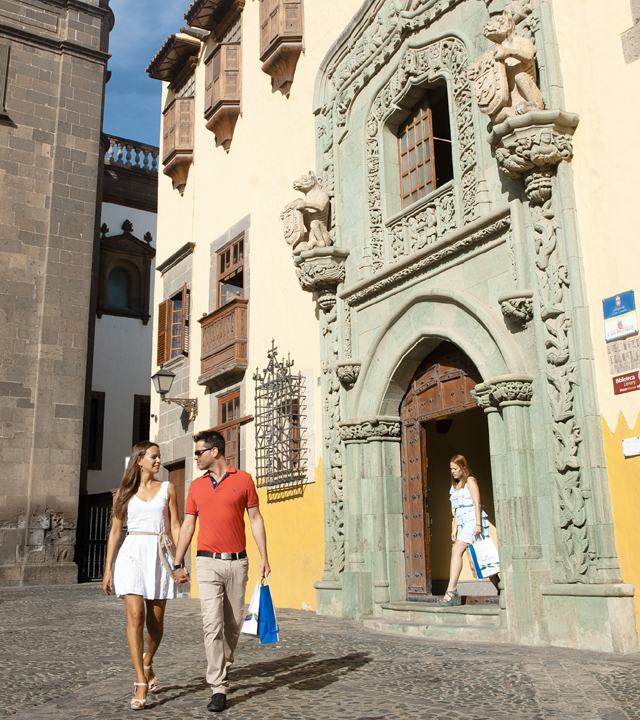 If you continue to opt for outdoor shopping areas, let us take you on to our next stop, at calle Mesa y López and its urban surroundings, which have been synonymous with shopping in Gran Canaria for decades now, and just a few minute's walk from Las Canteras beach, the golden backbone of the city. As you can see, here reside the world's historically best-known brands, another fine example of the cosmopolitan, yet deeply island character with its very own seal, that is Las Palmas de Gran Canaria.
What's that you say? Is there a good range of shopping centres in the capital? You can't imagine how good. Let's start here, right next to the Atlantic, near to where the waves come breaking in by the Alfredo Kraus Auditorium. This is where Las Arenas Shopping Centre stands, one of the leading lights of the comercial sector on the island, located at the far end of Las Canteras.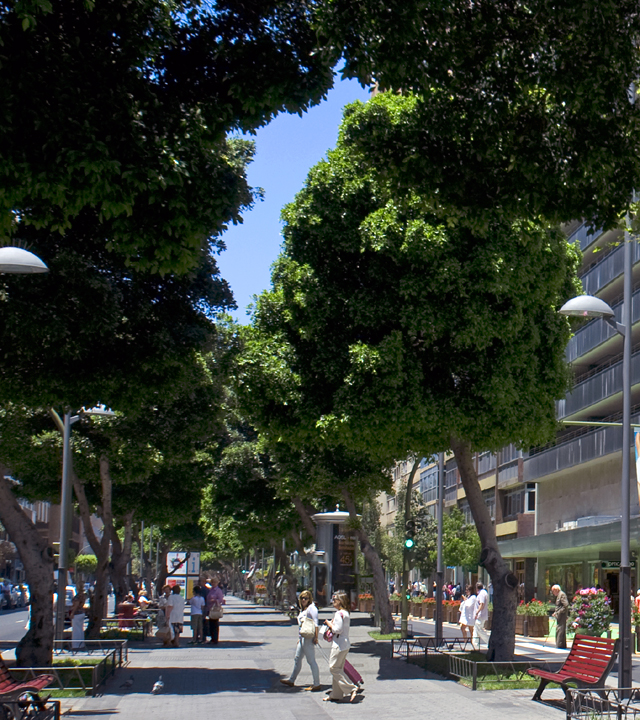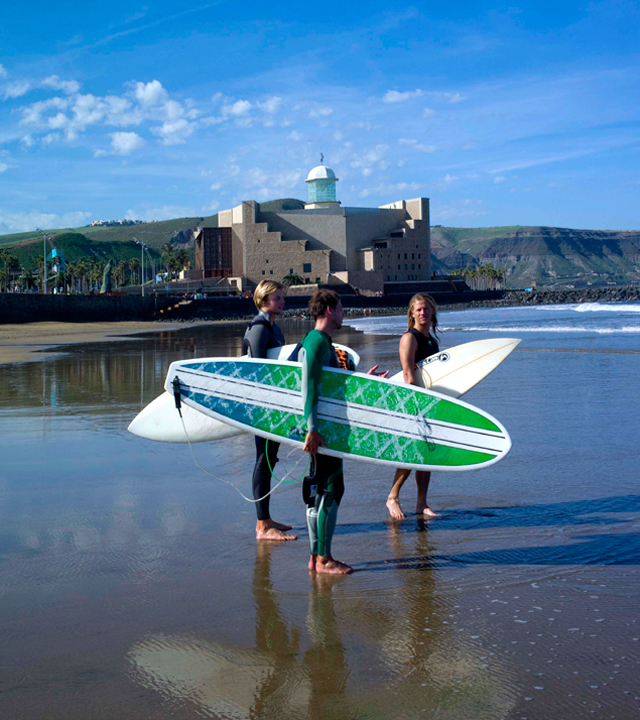 But the city doesn't end next to the sea. It snakes inland, full of life, and of course with lots more options for avid shoppers, whatever they may be seeking. Here, at the point where the city looks out over the coast from up on high, rises Siete Palmas Shopping Centre.

We now leave the city behind. We head southwards and along the way we come to two more amazing worlds for shopping lovers. One the one side emerges El Mirador Shopping Centre. Let's go up. You will see that it lives up to its name of Viewpoint (Mirador). The same can be said of its neighbour opposite, Las Rotondas Shopping Centre, the great outlet centre where we can breathe in the sea breezes while we stroll around its shops. Then just twenty minutes further down the road we come to our next destination, the Atlántico Shopping Centre, in Vecindario. And, without changing course, still further on southwards, we come to El Tablero Shopping Centre.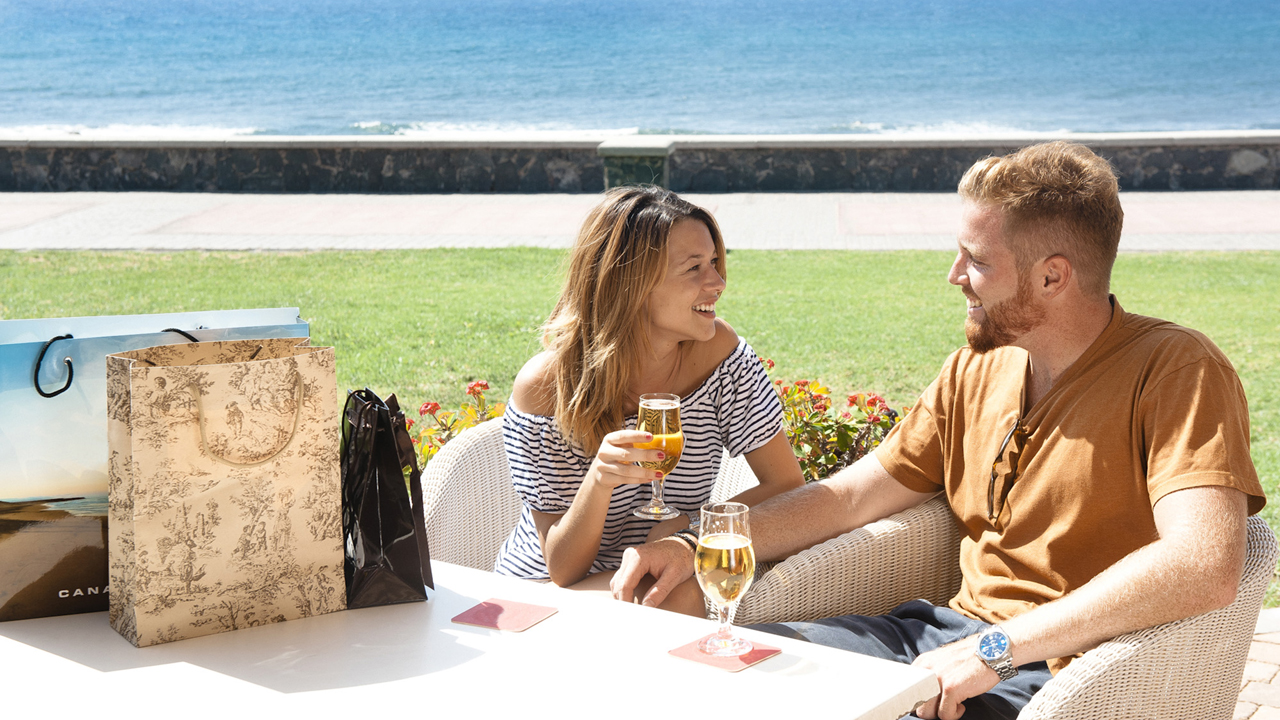 As there still may be gifts to be bought, (both for others and for ourselves), we shall conclude our journey down at the south, where there is far more than just sand, sun, starfish and sky. You might say that Maspalomas also has a shopping oasis, thanks to the presence of the Boulevard El Faro Shopping Centre, where nobody would be surprised to see Neptune himself queuing to pay at any one of the more than forty outlets there. The ocean to the south spreads its blue cape just metres away. It is a gift to you that will not cost a penny, although it is quite priceless.
At Playa del Inglés is a four storey building with some two hundred businesses distributed all around, including shops, bars and restaurants that make the Yumbo Shopping Centre such a lively spot. Gran Canaria is an endless paradise for shopping lovers, as the route continues further still to Puerto de Mogán, and is complemented by a wide range of street markets at the different municipalities. Perhaps we cannot buy happiness, but going shopping and discovering the finest articles under the Atlantic sun is a sure way to enjoy life.