El Pino Fiestas in Teror
Ancient chronicles tell of an image of the Virgin that appeared without prior notice in Teror. Towards the end of the 15th century, the village of Teror was a faraway settlement locked within dense laurel forests. The event reinforced the "enchanted town" trademark, one that still feeds the imagination of the islanders after 500 years.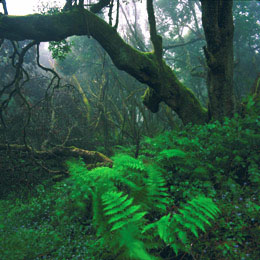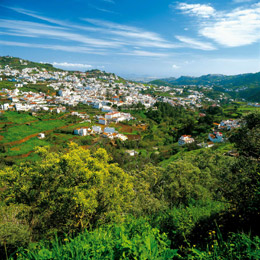 The image of the Virgin appeared all of a sudden on a giant pine tree that grew in the town's square. Soon afterwards, it rested at the St. Mary of Therore hermitage.
The large pine tree moved away after a storm. But the cult to the Virgin remained and spread throughout the island.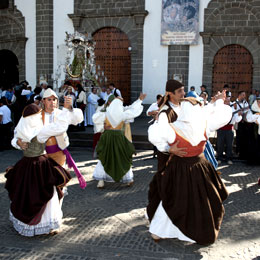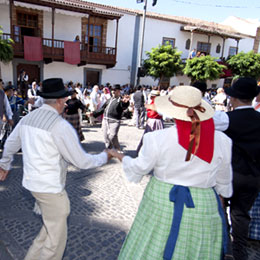 Two centuries later, Teror was already an important cult centre in Gran Canaria. When September came and the moon was closest to the Earth, the islanders filled their rucksacks and walked to Teror. They generally wore their old shoes, and put on their new ones at the town's entrance. These pilgrims rested at the entrance to the houses, in yards that remained open to the faithful.
Today's visitors maintain the tradition with a parade of carts filled with earthly produce, offerings to the Virgin of the Pine Tree. Thousands of Canarians carrying whistles from El Hierro and large castanets from La Gomera come to Teror when the tides are the highest.

The town greets them with adorned balconies and a full festive program to celebrate the most deeply-rooted traditions, including large beasts hauling wooden-wheeled carts and dozens of folk dance groups and music recitals. On the 7th of September, at 4 in the afternoon, a flock of sheep opens the festivity with the sound of bells and shepherd whistling. Following, 21 large groups do their best to leave their town flag very high up among such display of devotion.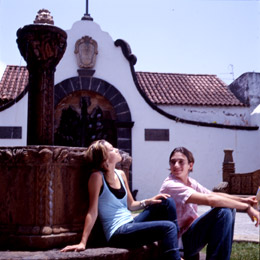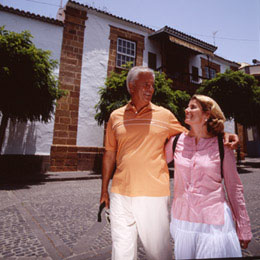 The potent plasticity of the celebration thus acquires its splendour. The stream of colour crosses the town's streets, reaching La Calle Real (Real Street) and the Plaza del Pino (Pino Square), one of Gran Canaria's most authentic architectural landmarks. Teror's basilica has not been named National Monument for nothing, although the entire town deserves such honour, and not only during El Pino Fiestas.