Couch potatoes do not go to Heaven
Couch potatoes exist. Yes, my dear reader, they do.
There are those who refuse to move outside a range of 5 blocks around their home, people who fail to see that we should really to be determined to reach the most "heavenly" spots. Determined to get to places too far away for the rest.

This explains why so many are incapable of taking the winding road that takes you from Gran Canaria's warm coastlineto the summit of the island.
These people will miss out on the chance of feeling like an astronaut without taking off from the ground. An astronautde excursión en Tejedatouring Tejeda, the small town in Gran Canaria that is home to a sea of clouds. Indeed, some will definitely miss it, these are the unfortunate ones.
However, if you, my friend, belong to the restless crowd, to the select team of those who just cannot stay still even if nailed to the floor, then and only then you should follow our advice.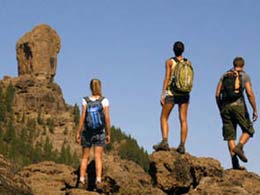 There is a road in Gran Canaria that begins on the beach, runs through many towns, and finally reaches the sky. Nothing out of the ordinary so far. But then comes the unusual part of the trip, when the road keeps going up and up, leaving behind a trail of clouds until finally reaching Tejeda.
And that is all, folks. Just a little piece of advice to travellers: do not miss the small town of Tejeda on your way through. Just a little over an hour from the coastline, along a road that takes you so high you will be able to set foot on Heaven (2 hours if travelling with a sweet-tooth who makes you stop in San Mateo to buy sweets and egg-and-sugar bread).
Day trips to Tejeda
Tripgrancanaria organizes routes all around the municipalities in the interior of the island, including Tejeda and Roque Nublo.
OKGranCanaria will take you on an itinerary which starts off at the coast of Arucas up to the island's summit.