Time to be alone at Caleta de Agaete

The mountainous island of Gran Canaria is packed full of secluded spots, hidden places that don't appear in tourist guides. They are little corners which provide a surprise or two. But you already know this and that's why you are reading this page.
Even we islanders are often surprised when a friend lets us in on one of these spots. Although it might seem strange, only a few Gran Canarians know every nook and cranny of our intricate geographical relief, packed with ravines, cliffs, beaches and tiny coves.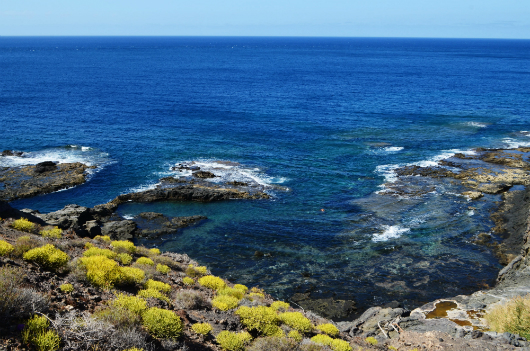 More often than not we are guided by friends to discover secret corners of the island. Places from our childhood invariably end up taking us down to the sea, sitting opposite the ocean at spots where silence is our only company.
La Caleta, near to Agaete, is one of these places. Many islanders have never actually been there. It is a tiny cove, and a little known one at that.
It is much more common to venture down to Las Salinas, the natural sea water pools just a short way along from Agaete Harbour, and it is even stranger to meet someone who has never been to the picturesque Port of Las Nieves, which is also not too far away.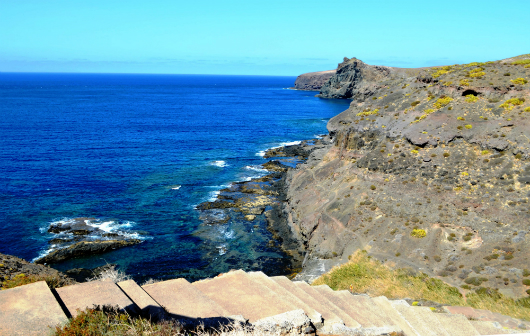 But if what you are looking for is privacy, authenticity and no human interference, your favourite spot will surely be La Caleta, as it is for most of the lucky people to have been there.
They are rarely visited rocks, bathed in the Atlantic, with little sandy inlets where you will feel you are right at the heart of nature. Here you are treated to ochre tints of rock, blending effortlessly with the evening tides. A wholly rocky landscape which envelops you, creating an environment you will not be able to reproduce anywhere else, not even with all the money in the world.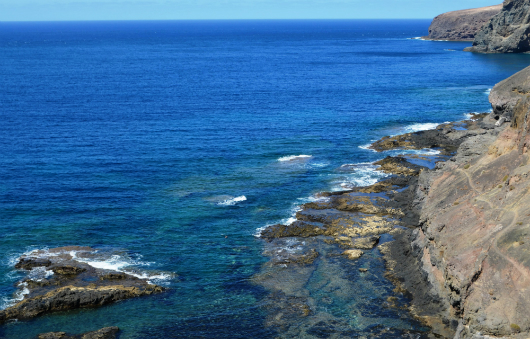 To sit on the warm, dry rocks, having been for a bathe in La Caleta is a sensation that only lovers of simple nature will fully appreciate. The volcanic rocks will give you a rush of energy. This energy is joined by rays of sunlight, creating the perfect plan for hedonists. Such a simple gift indeed.
This cove lies at the feet of a solitary esplanade. In the metres close by its cliffs there are no buildings whatsoever. On its slopes that peer out over the sea, there are little pathways we recommend you do not explore because they are not fit for walkers. The right thing to do is to take the steps laid out for walking down, which will take you right down to the water's edge. Once there, you can enjoy the crystal clear water, the sea bed packed full of marine life and the powerful sun that shines brightly day in, day out.
La Caleta is not just that, though. It is a little corner, no more than a kilometre from the Port of Las Nieves, which is a great opportunity for you to go along to after a bathe and some fine local fish, at the restaurants down by the harbour. Here you can round off your perfect day, with a splash in the water included.
How to get there

From Las Palmas de Gran Canaria, we take the GC-2 North Motorway, towards Agaete.

We can park right at the Port of Las Nieves and walk along the coast to our right, passing the natural swimming pools of Las Salinas on the way, and keep close to the coast until we come to a steep, winding climb. When this comes to an end and we reach a dirt track, we are about to arrive at the start of the steps going down.