Recipes from an Islandmix. Aitor Neketán. Gran Canaria.
FIRST STEPS
a) Ingredients and Cooking method for Gel Rum Maracuyá

35g maracuyá juice
25g brown sugar
2g lime peel
365g icing topping
70g white Arehucas rum
Heat up the juice, sugar and lime peel. Mix with the icing and the rum. Store cold.


b) Ingredients and Cooking method for Banana and Maracuyá conserve
65g maracuyá pulp
40g brown sugar
40g liquid butter
630g banana
5g powdered jelly
Peel and cut up the bananas.
Mix the rest of the ingredients together, except the jelly, to make a marinade for 40 minutes.
Put it all into a bowl and oven cook at 200 degrees for 15 minutes. Add the previously hydrated jelly.
Store in the fridge.
c) Ingredients and Cooking method for Almond Streuzel
140g butter
140g flour
140g powdered almond
140g unrefined sugar
4g lime peel
Mix all the ingredients together into some small balls.
Oven cook at 150 degrees until golden brown.
d) Ingredients and Cooking method for Orelys cream
Orelys is a chocolate
700g Custard
5g powdered jelly
400g Orelys chocolate
Make some custard, strain it, and add the previously hydrated jelly. Emulsify with Orelys chocolate.
Allow to set in the fridge.
COOKING METHOD
Making and preparation of the dessert
Place some banana maracuyá compote in the middle of a dish, and spread.
Beat the fudgy ganache and make 3 balls with a piping nozzle.
Make a few holes with a hot spoon, and fill them with the maracuyá rum jelly.
With the nozzle make the cream in the shape of drops.
Finish by placing some eztreuzel balls and some jelly drops on it.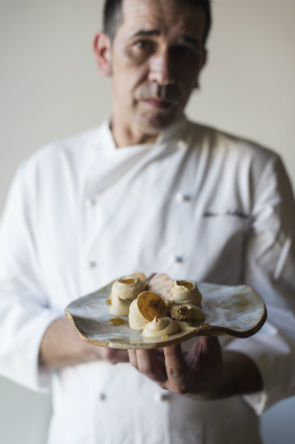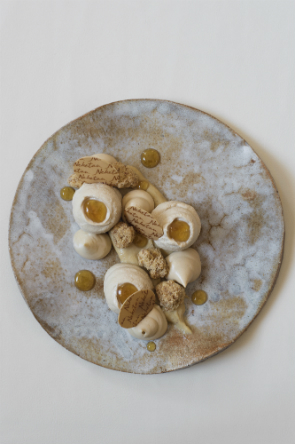 Who is Aitor Neketán?

Aitor Neketán is a leading artisan baking expert in the Canary Islands.

Aitor has been a keen cook since his early days, and has carried on the family tradition at his bakery called la Pastelería-Bombonería Neketán, and specializes in pastries featuring mostly local products.

This establishment is located in Vecindario, a town in the south east of Gran Canaria, and is the epicentre for an unrivalled catalogue of sweets and desserts both new and original, all invented by a cook how is ever keen to learn.

Neketán's bakery is a place of pilgrimage for sweet toothed fans from all over the island, and is on calle Chile nº2, right next to the municipal Swimming Pool.

Find out more here about the Gran Canarian master baker.