Recipes from an Islandmix. Chefs Jenisse Ferrari and Mario Rodríguez. Gran Canaria.
For the marinated sardines
Sardines
100 gramos sea salt
1 lime
1 lemon
1 orange
Olive oil
Organic herb leaves
For the olive oil sauce
Olives
Xanthan gum
To set up the dish
Orange segments
Organic herb leaves
Marinated sardines
Olive juice
Salt flakes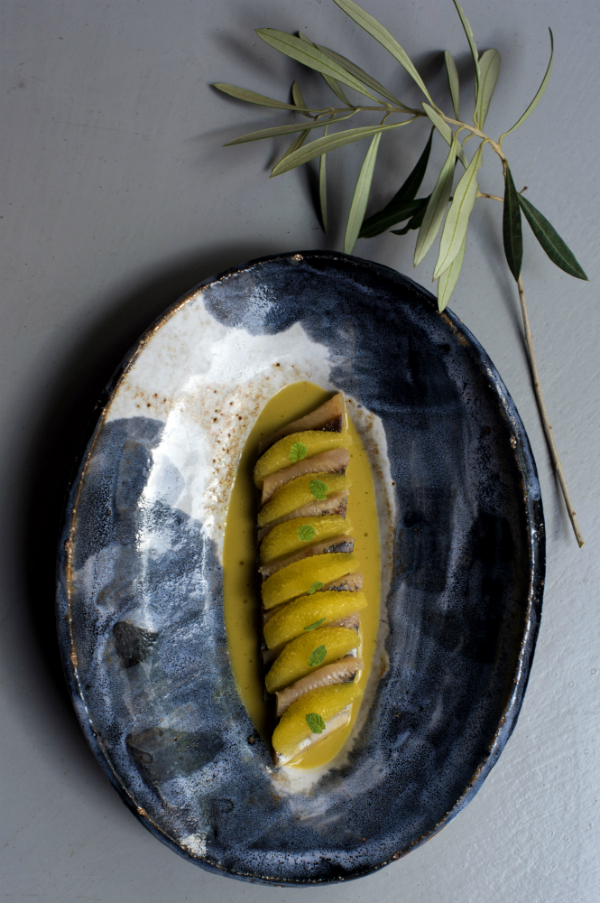 1.- Clean the innards of the sardines with salt water and ice so the blood can be drawn out.
2.- Fillet the sardines, take out the bones and store.
3.- Chop up all the citric fruits and add salt.
4.- Marinade the fillets and cover them with the salt and citric fruits for between an hour and an hour and a half, depending on their size.
5.- De-salt the fillets in water and place in olive oil aromatized with organic herb leaves and citric fruit skins.
6.- Blend the olives on a slow speed to draw out the bones.
7.- Take out all the bones and blend the olive mix to make as thin a puré as possible.
8.- Filter the puré with a superbag to draw out all its juice
9.- Mix the juice with xanthan gum in a proportion of 0.2 gr for every 100 ml of juice.
10.- Store in a cool place and allow to settle.
11- Cover the bottom of the dish with the juice.
12.- Take out the oil aromatized fillets and place them over the olive juice.
13.- Place an orange segment over each fillet and place an organic herb leaf and a salt flake on the top.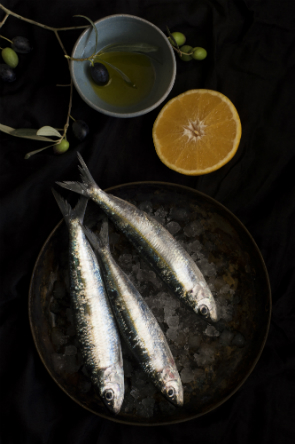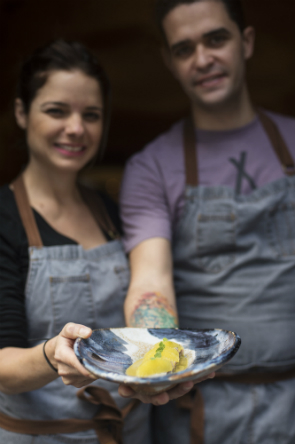 Cook's notes for readers:
What is a superbag?
It is a kind of bag used as a filter, with special characteristics, as it is particularly efficient for separating liquids and solids. It is made out of porous material, and is resistant to heat up to 170º C, is flexible and comes in two sizes. This accesory is used a lot in professional kitchens, and strains consomés while saving the job of having to filter afterwards, para colar fondos, salsas, etc.
What is xanthan?
This can be found at gourmet and herbolist shops. Its most common substitute is AGAR and in common cooking products it can be replaced by cornflour, but the mixture must be boiled to be able to cook it properly, which is not a viable option for this recipe.
Jenisse Ferrari and Mario Rodríguez Ureña talk us through their dish:
"The recipe is inspired by everyday flavours, using common market products and giving them a personal touch, with the result being a wholehearted and fresh dish. The recipe we present aims to raise awareness of the goodness of olives from the municipality of Santa Lucía. We also attempt to provide a contrasting taste for the palate, between the freshness and the acidity of the oranges from Telde, such a characteristic flavour that only comes from the local land.
Our cooking style is born out of the culinary experiences we have experienced and are passing on.
Our proposition is our way of expressing who we are and what we like. It is a great chance to get to know and share in an environment that allows us to empathise with our clients, offering them dynamic and forward thinking dishes."

Who are Jenisse Ferrari and Mario Rodríguez Ureña?
Chef
Jenisse Ferrari
studied Cooking and Baking in Mausis Sebess, Argentina. SHe took a Masters course in Restaurant Innovation and Management at the Basque Culinary Centre in San Sebastián. She gained valuable professional experience in kitchens around the world, in several countries ranging form Costa Rica to Mexico, doing personalized cookery courses at Newport Beach California. She also did a period of training at the Celler de Can Roca in Girona.
However, Jenisse doesn't just consider her professional experience to have been gained in formal training centres and establishments; she also cites her family, anonymous cooks she has met over the years, apprenticeships with different outstanding chefs, her trips, art, friends, and flavours she has picked up here and there. Together they have all been masters to her and great sources of inspiration.
Mario Rodríguez Ureña
a chef who hails from Telde, who learnt his trade at the Hotel Catering School in Pájara, on the neighbouring island of Fuerteventura.
Later on Mario did a Master's course in technique, product and creativity at the Basque Culinary Centre. He then widened his knowledge working alongside Martín Berasategui, before moving on to the Celler de Can Roca.
His love for cooking started when he was very young, under the auspices of grandfather Víctor Ureña, a true enthusiast of Basque Country cuisine. Chef José Rojano has been his mentor and guide in Mario's progress in the kitchens.
Jenisse Ferarri and Mario Rodríguez Ureña today join forces to showcase their talents at the
Qué leche!
, a restaurant located at the historical district of Triana, in the island's capital.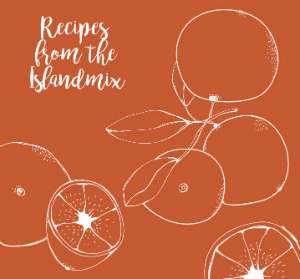 Our 16th 'dish-enhancing' secret ingredient
The commercial cultivation of oranges in the city of Telde date back many years, to the end of the 19th century, with production being sent north to the British Isles. This tradition continues today, thanks to the wonderfully high quality of the sweet orange that is painstakingly harvested at several estates around the region, and is now focused mainly on local consumption. Be sure to ask for this fine product at local markets around the island. It is a perfect orange to make juice from, and is easily recognised for its good colour and large size.
For further information go to Telde oranges.
The making of 'Islandmix' also features the collaboration of Gran Canarian potter Gustavo García Cruz.
You can learn all about his work on this fanpage plus his INusuall brand and his comtemporary pottery pieces.

Further information about local craftsmen and women can be found on the FEDAC official website.