Cañada de Los Gatos
The Archaeological Zone of Cañada de los Gatos is an emblematic landmark on the island's pre-hispanic archaeological scene, made up of diverse enclaves which years ago used to form an individual unit; a coastal population that sprang up along the mouth of the ravine at Mogán and developed into a large settlement with an important urban structure. The stone houses that made up the village of La Cañada de los Gatos, La Casa de Las Siete Esquinas, the burial pits and tombs of La Puntilla and Las Crucecitas and the burial caves, are scattered around the eastern slopes of the ravine, very near to its mouth. These are the archaeological remains that are preserved to this day.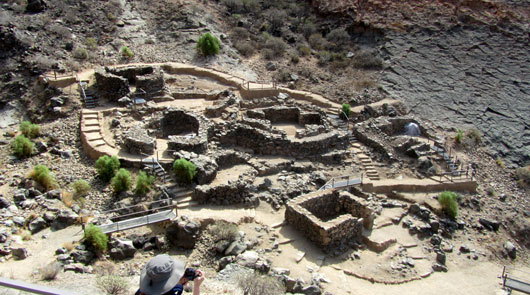 The Archaeological Area of Cañada de Los Gatos has been declared a Site of Cultural Interest for its scientific relevance, its importance within the Chronocultural framework of its indigenous people, and for its state of preservation. It is a coastal settlement that lies in a strategic spot, and was chosen by the ancient inhabitants of the island for the ideal environmental conditions it offered them: a fine climate, running water from the ravine, good quality soil, fine climatic conditions for farming and a coastal location which offered abundant marine species, a key component of their diet. This is what the archaeological excavation work has uncovered. It is estimated to be more than 1,300 years old.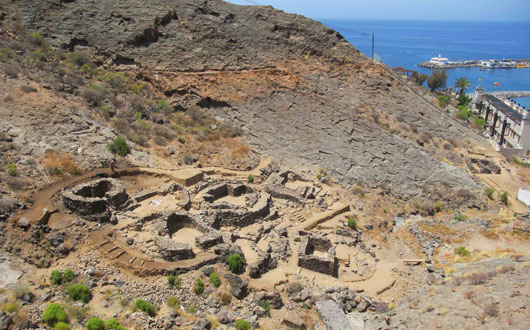 Nowadays, this Archaeological Area is set up for visitors to walk around, linking up the different areas of this former settlement, offering an exceptional experience by providing an insight into the lifestyle of the Ancient Canarians, while at the same time offering superb views over the Port of Mogán and the mouth of the ravine from its viewpoint and cafeteria.
Visiting Hours
Tuesday to Sunday from 10:00 to 17:00 h.
Closed Mondays, and 1st, 5th and 6th January, 1st May, and 24th, 25th and 31st December.

Entrance fee
General price: 4 €. This price allows visitors access for a whole year.
Reduced price: 2 €: School groups (except local school) or groups of over 10 people with prior appointment; children between the ages of 10 and 14, student card holders, and over 65s.
Special free entry: Educational groups from the municipality with prior appointment; tourist guides and teachers accompanying groups; children under 10.
To qualify for the reduced fee, visitors must be able to produce all appropriate documentation.
Guided tours, activities and workshops are available to school groups or private groups of over 10 individuals.
Combo 10 €: Cenobio de Valerón + Maipés de Agaete + Necrópolis de Arteara + Cañada de Los Gatos.
Guided tours have to be requested by prior appointment.